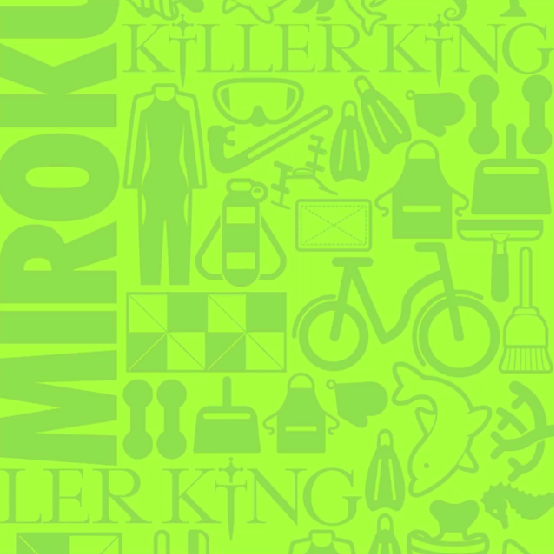 Profile
First Appearance
Anime
Season 2, Episode 1
Portrayed by
Stage
Kawakami Shōta (OVER the WAVE! & OVER the WAVE! REMiX)
Autograph

| | | |
| --- | --- | --- |
| " | Highly Aware Stoic Panther | " |
The place I want to go the most to right now is the sea. You can dive on-season and off season it's calm and you can gaze at it without thinking about anything. I dislike the noise, and I usually go alone, but maybe I could take you. You know... what does this mean, yes? If you don't I'll tell you. You're... special.
Like Yuduki, Miroku is quiet but also serious. He approaches a new job with the mindset of learning new things with every hindrance he has to overcome. He does not want to be in his seniors' shadow.
Appearance
Despite his young age, he and Kento are the tallest members. His muscular but lean build is a result of his regular workout in the gym. Miroku has grey short hair and purple eyes with a tint of turquoise blue. A prominent feature is his pierced ear conch on his left side.
He has a casual dress style that includes figure-hugging tops.
Personality
Miroku has a quiet and stoic personality. Since he was young, he would set boundaries from others which made him seem distant to his surroundings [1]. But he still cares a lot for his friends. He does not like his seniors to pity him only because he is a newbie in the show business. He is also quite competitive[2].
To bring out the best in himself he does a lot of research for his jobs. The same applies to cooking. He likes it and tends to cook the same dish until he completely masters it.
An important fact many do not realize is his hard-working nature. Since he was a child, he was misunderstood as a genius and outstanding in looks who do not have to bring up much effort to succeed. In reality, he works as much as others to get to where he is now. [1]
History
He met Akane in the dojo of the latter's grandpa where they practiced judo together.
Relationships
Relationships
Appellation
Appellation
| | | | | | | |
| --- | --- | --- | --- | --- | --- | --- |
| | | | | | | |
| Refers to "him/her" | Tono | Tono | Shingari | Tono-chan | Miroku | Shingari-kun |
| Refers to "them" | Kitakado-san | Kore-san | Kaneshiro-san | Ashu-kun | Kento-san | Masunaga-san |
| | | | | | | |
| Refers to "him/her" | Shingari/Tono | Tono-sama | Shingari | Shingari-sama | Tono | Tono |
| Refers to "them" | Onzai-san | Osari-san | Nome-san | Sekimura-san | Yuduki | Haruhi |
| | | | | | | |
| Refers to "him/her" | Miroku | Ore | Miroku-kun | - | - | Miroku |
| Refers to "them" | Akane | N/A | Tsubasa | Yashamaru-san | - | President |
Trivia
Like Tatsuhiro and Akane he is very athletic.
Miroku tries not to consume Carbohydrates as much as he can.[3]
Like his senior Kento, he pays the utmost attention to his nutrition.
During their Bambi time Miroku was a model for a teens magazine.[1]
Miroku likes the cold air and the quietness of the town in the morning.[4]
Miroku trains his muscles before going on stage. It helps him relieve tension.[3]
His representative animal is a panther. His personal monster/mascot is called Mirora.
Miroku wants to try drinking sake when he can drink. He heard it goes well with sashimi.[5]
Miroku is finicky when it comes to cooking. He will only cook the same thing until he feels he's perfected it.[6]
References

Community content is available under
CC-BY-SA
unless otherwise noted.