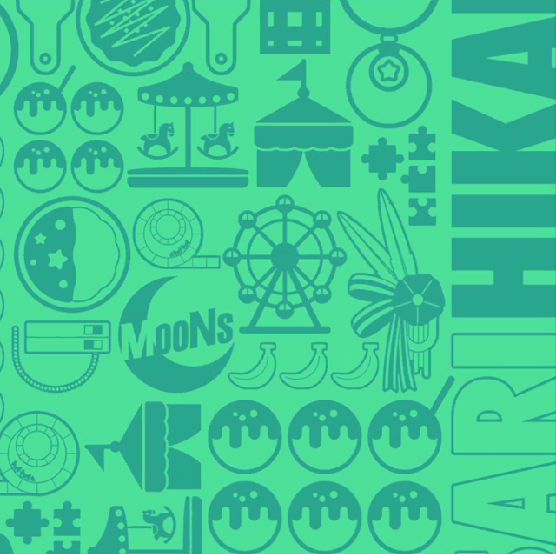 Profile
Family
Father (Deceased), Mother, Younger Sister, Younger Sister,
Younger Brother
First Appearance
Anime
Season 1, Episode 1
Portrayed by
Stage
Jounin Tatsuki (OVER the WAVE!)
Matsumoto Hinata (OVER the WAVE! REMiX)
Autograph

| | | |
| --- | --- | --- |
| " | Tension Full Throttle! Frivolous Weirdpanzee | " |
Hey Princess. Have my feelings come across properly, Princess? I mean...! You're defenseless, Princess! If you're not careful, some wolf might eat you!
Hikaru is the loud and energetic part of MooNs. Even though his overeagerness causes trouble for his group often times, they also appreciate his ability to lighten the mood.
Appearance
He is a tall, young man and has an average build. His green hair is partly tied into a ponytail with one strand usually in a braid. His bangs are parted on the left side. His eyes are a color mix of brown and green with a yellow highlight.
In his free time, he wears clothes with lots of different patterns. 
Personality
Hikaru is very cheerful, loud and clumsy when too excited. His hard-working personality comes from his family situation. He always does his best in his jobs, no matter how small the requirements.
But little is known that his loud words are to hide his chronical sickness. He does not want people to pity him because of his health condition. As long as he takes his medicine he can manage well.[1]
History
He was born in the Kansai region. Hikaru's father passed away so his mother raised him alone with his three younger siblings. His family home is a Takoyaki/Okonomiyaki restaurant.[2][3]
It was also his mother that signed him up for Bambi, unbeknownst to him.[4]
Hikaru is childhood friends with Nome.
[5]
Relationships
Appellation
Appellation
| | | | | | | |
| --- | --- | --- | --- | --- | --- | --- |
| | | | | | | |
| Refers to "him/her" | Hikaru | Hikaru | Osari | Hikarun | Hikaru | Hikaru |
| Refers to "them" | Prince | Ryu-chin | Kanechin | Yutan | Ai-chan | Leader |
| | | | | | | |
| Refers to "him/her" | Hikaru | Ore | Hikaru | Hikarun | Hikaru-kun | Hikaru-kun |
| Refers to "them" | Peachan | N/A | Tatsu | Mikachi | Yu-chan | Harupyon |
| | | | | | | |
| Refers to "him/her" | Hikaru | Osari-san | Hikaru-kun | Hikaru | Hikaru | Osari |
| Refers to "them" | Akanecchi | Tono-sama | Tsubasa-chan | Yashamaru-san | President | Shuuji-san |
Trivia
His hobby are games.
Hikaru has many friends in the entertainment industry.[5]
He tends to be a glutton, and especially likes bananas.
Hikaru likes to eat various flavors of fried chicken from 'Karage Man'.[6]
He likes takoyaki and roller coasters. Dislikes blueback fish though.[7]
Hikaru's idea of a perfect date is relax at home and eat her home cooking.[8]
His representative animal is a monkey. His personal monster/mascot is called Osarumon.
Hikaru sometimes would cry at dramas, movies and even commercials as he is weak to genres like family or animals.[9]
Hikaru has a car license but in paper. He is the worst driver of MooNs. Momotaro and Kazuna both said that his driving could be more silent.[9]
His mother thought him a special way to make wishes, so he is growing his hair because he wants an important wish of his to come true.[10]
References

Community content is available under
CC-BY-SA
unless otherwise noted.