Home Screen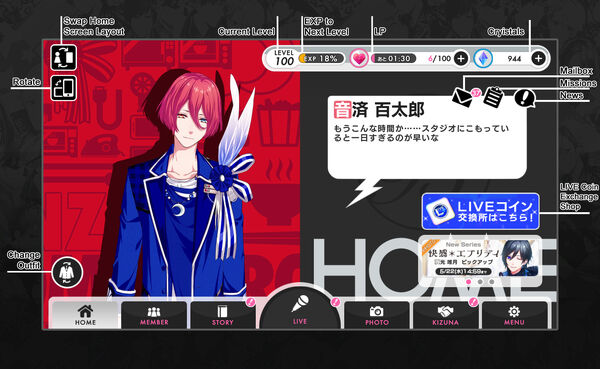 Buttons
Description



Swap Home Screen Layout

Switch to a better view of your favorite unit center's CG.



Rotate Screen

Portrait mode of the Main Character.



Change Outfit

Swap through the default or unlocked outfits of your Main Character.

Head to your chosen SSR idol road to unlock his outfit.
Some of the outfits can only be unlocked via Closet (see Kizuna tab).



Mail Box

Presents

Collect items that you've received from Log-ins, Lives, and Events.
Items and Photos are separated.

Friend Requests

Decline (white) or accept (pink) friend requests.

History

View previously collected items.



Missions

Daily

Play 1 Live
Play 3 Lives
Exchange 1 time from the LIVE Coin Exchange Shop
Play 9 Lives

Weekly

Exchange 5 times from the LIVE Coin Exchange Shop
Log in for 5 days
Play 20 Lives
Play 50 Lives

Limited

Different limited campaigns available can earn you items. Currently if you follow B-Project with your Twitter and Line account you can earn Crystals.



News

Check out the latest game updates here!